カリキュラム・研究
教員紹介
ラミレズ カルロス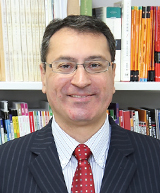 | | |
| --- | --- |
| 氏名 | ラミレズ カルロス(Carlos Ramirez) |
| 所属 | 国際学部 国際学科 グローバル専攻 |
| 職名 | 准教授 |
| 専門 | 国際関係、国際異文化 |
自己紹介
In the early 1990's, I spent two semesters in an Asian Studies program at a Japanese university as an exchange student while completing my Master's degree in International Affairs (NPSIA, Carleton University, Ottawa). Through this experience, I began my long fascination and endearment towards Japan. I started my teaching career in the field of English education and intercultural communications hoping to help Japanese students better understand and communicate with the people of other countries and cultures. More recently, I have returned to my original focus of research - the fields of International Relations, International Development and Globalization issues. We now live in an interdependent world. Events that take place in one part of the world will inevitably impact on the rest of us one way or another. It is therefore clearly in our own self-interest to be aware of the news, actions and developments happening elsewhere. In my classes, I raise this awareness among the students so that they are ready to both manage and benefit from international news.
学生へのメッセージ
You have all made a brave and courageous decision to spend one year of your lives abroad in places you have never been and with people you have never met. I encourage you to make the most of this opportunity. You will need to bring back the knowledge and wisdom you have learned abroad to improve not only yourselves but the organizations and communities you will work and live in upon your return. This period abroad will be one full of opportunities, rewards and challenges. It is an experience you will cherish for the rest of your lives. Please embrace it and motivate yourselves to reach your maximum potential. It is my hope that during your 4 years of studies at Kindai you will learn not only about the world beyond Japan's borders but, more importantly, about the world that lies within each of us.
主要科目
International Relations
International Politics
Latin American Politics and Society
ゼミ紹介
The world today may seem like a complicated place - and, indeed it is! So, it is important to never lose sight of our ability as humans to think reasonably and compassionately. I ask students to set aside their emotionally based preconceptions and assumptions to look at world issues with clarity, impartiality and logic. The main theme and content of the classes will be the examination of the political power structures that drive globalization and the world economy. The main aim will be to research, understand and discuss the policies, objectives and underlying ideologies of a variety of global actors that lead either to common ground, stability and peace with others or to a situation of conflict and war.
経歴
2016年4月 - 現在
近畿大学 国際学部 准教授
2010年4月 - 2016年3月
近畿大学 総合社会学部 専任講師
1998年4月 - 2010年3月
近畿大学 文芸学部 非常勤講師
1994年10月
大阪大学 全学教育推進機構 非常勤講師
学歴
1991年9月 - 1994年6月
カナダ国立カールトン大学大学院 (M.A.) 国際関係学部 国際発展・貿易学科
1992年9月 - 1993年5月
関西外国語大学 交換留学  アジアンスターディスプログラム (Diploma)
1985年1月 - 1989年6月
カナダ国立ヨーク大学 総合社会学部 (B.A.) 政治学科
主な業績
論文
The Roots and Rise of Neo Conservatism in Japan: From the Post War to Koizumi
ラミレズ カルロス Journal of International Studies 3 55-72 2018年11月 [査読有り]
How US North Korean Diplomacy Should Have Really Worked: Making the Trump-Kim Summit Counterfactual Case
ラミレズ カルロス International Afffairs Forum Online 2018年7月 [査読有り]
Abe's Charm Offensive - Is there a Second Act?
ラミレズ カルロス The Diplomat 2018年3月 [査読有り]
Abe's Cul-de-Sac Foreign Policy: Between Entrapment and Abandonment
ラミレズ カルロス The Diplomat 2017年9月 [査読有り]
Abe's Trump Challenge and Japan's Foreign Policy Choices
ラミレズ カルロス The Diplomat 2017年3月 [査読有り]
A 'Can Do' framework-based curriculum in a university-level English language learning programme: Course goals, activities and assessment
ラミレズ カルロス, 下絵津子, 新田香織 Critical, Constructive Assessment of CEFR-informed Language Teaching in Japan and Beyond 2017年2月 [査読有り]
Interdependence, Institutions and Smart Power: Obama's Neoliberal Foreign Policy in a Neoliberal World
ラミレズ カルロス 近畿大学総合社会学部紀要 4 (1) 2015年9月
Obama's Neo-liberal Foreign Policy in a Neo-liberal World
ラミレズ カルロス International Affairs Forum Online 2015年8月
Balancing Validity, Practicality and Reliability on an University Oral English Test
ラミレズ カルロス 近畿大学教養・外国語教育センター紀要. 外国語編 5 (1) 2014年7月
Re-examining Development Strategy: The Role of Agriculture in the Early Stages of Industrialization
ラミレズ カルロス 近畿大学総合社会学部紀要第 2 (1) 2012年7月
Some Initial Considerations of Unified Oral Testing in a Japanese University Context
ラミレズ カルロス 近畿大学教養・外国語教育センター紀要 (外国語編) 2 (1) 2011年12月
講演・口頭発表等
Getting to the Point: Making Academic and Research Presentations
Advanced Nuclear Reactor Experiment 2017 2017年11月
Review of a Can-Do-Framework-based Curriculum in a University-level English Language Learning Program
全国語学教育学会 FLPSIG 名古屋 2014年5月
Back to Basics: What and why are we testing?
近畿大学総合社会学部 英語研究会 2013年3月
Unified Oral Testing in a University Oral English Program
JACET 兵庫県西宮  2010年11月 JACET
Current status of oral testing at the university level.